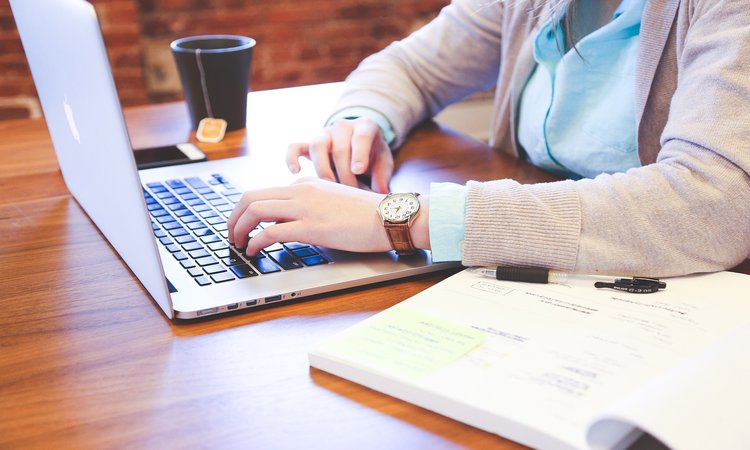 Eventualities can occur anytime, anywhere. Our rational mind always pushes us to secure ourselves and our loved ones from any unforeseen risk that might harm health, or even manifest circumstances that can end life! A solid financial preparation to mitigate such risks makes sense. With this notion, the concept of Insurance was born. Fast-forward to this day, Life Insurance & Health Insurance policies have become an integral part of the social well-being and security.
But, do you actually need both of them? Find out in the thorough anatomy of Life Insurance vs. Health Insurance below.
What is Life Insurance?
In a nutshell, Life Insurance is a contractual policy that covers the Insured person against the risk of life. A Life Insurance policy guarantees to payout an assured sum to the nominated person(s) in the unfortunate event of the passing of the insured person. The nominated people for a life insurance policy usually include the dependants of the insured person (parents, spouse, and children). Life insurance also provides the insured person with the survival benefits on the maturity of the policy in case the person survives beyond a specific age.
Benefits of Life Insurance Policy
Sum Assured to your dependants: Upon the occurrence of an unfortunate event, your dependent nominees get the sum assured as a payout to carry on with their normal life without financial burden.


Survival Benefits: The premium paid towards a life-insurance policy can be considered as an investment. In case the insured person lives past a specified age, he/she gets the invested money upon the maturity of the policy.


Tax Benefits: Insurer can claim tax deduction of up to 1.5 lakh Rupees in a year against the life insurance policy under section 80C.


Premium Payout: The sum assured can be paid out as lump sum or via instalments.
Life insurance policies can be classified as Term Life Insurance, Whole Life Insurance and Annuity plans.
What is Health Insurance?
A Health Insurance Policy covers the hospital and specific medical expenses for insured person. It is categorized as personal insurance which compensates the insured person's medical treatment expenses up to a specific limit. Usually, the bills related to Surgery, nursing, patient's room, medical tests, medicines, and specialists consulting are included in the compensatory amount.
Purchase of suitable health insurance policy plans has become a norm currently, mostly due to lifestyle changes and increased probability of an illness/accident.
Benefits of Health Insurance
Full Medical Treatment Compensation: Health Insurance plans cover pre-hospitalization, hospital charges, post-hospitalization charges, and other expenses.


Domiciliary Treatment: In case the insured person requires prolonged treatment at home, many health insurance plans cover the expenses for it.


Rider benefits: In case a specific disease or condition is not present in your health insurance plan, you can add a 'rider' policy to cover the risk for the same. For example, cancer rider.


Tax Benefits: The health insurance policy holder also gets tax benefits of up to Rupees 25,000 (50,000 if the cover is for parents) in a year under section 80D.
Difference between Life Insurance & Health Insurance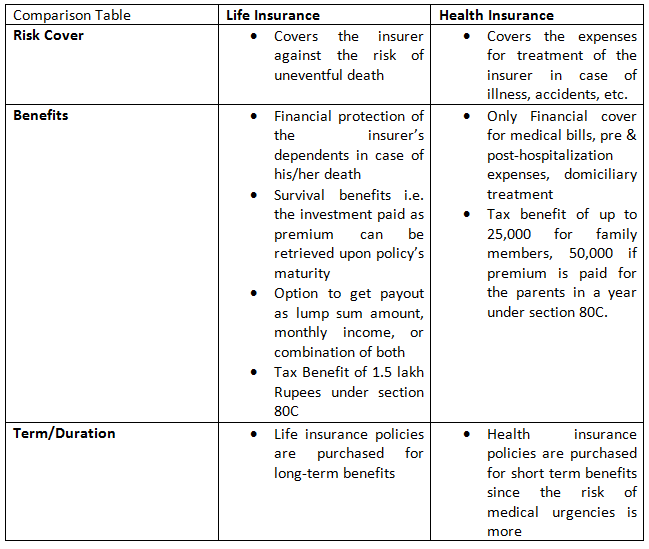 Which one should you choose?
It you who can answer this best! It is advised that you create your goal and get professional financial planning advice before proceeding.The probability of demise of a person is a rare yet certain. On the other hand, the probability of occurrence of medical conditions is more frequent. In an ideal world, a person must cover him/her and their loved ones by getting a life insurance policy as well as the health insurance policy.
Mutual Fund Investments are subject to market risk, read all scheme related documents carefully.